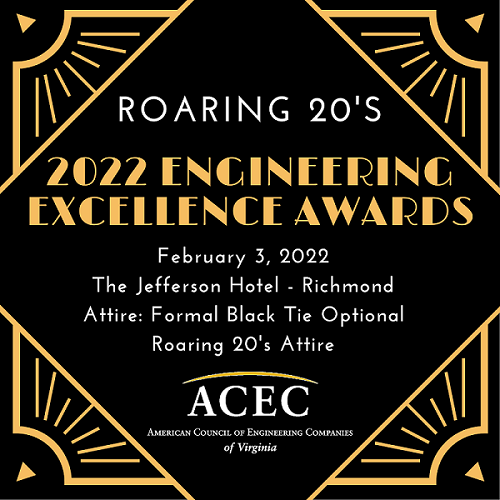 Roaring 20's Engineering Excellence Awards and Gala
Get dressed in your best Roaring 20s outfit and head to the Engineering Excellence Awards Gala on Thursday, February 3, 2022, at 5:30 pm.
During the cocktail hour in the Jefferson Hotel Rotunda, guests will view scenes from a 1920s silent film on the big screen, followed by a seated dinner and awards presentation upstairs in the Grand Ballroom. During dinner, you will enjoy jazz classics from the era. Roaring 20s attire formal attire is encouraged however, Roaring 2020's attire is fine as well.
The American Council of Engineering Companies of Virginia proudly presents the 2022 Engineering Excellence Awards and Gala, recognizing engineering firms for projects that demonstrate an exceptional degree of innovation, complexity, achievement, and value.
The EEA Celebration will feature the BEST in Engineering projects!  We will also award two Legislators of the Year, and our Rising Star of the Year will be presented to a young professional in the Engineering industry.
Thursday, February 3, 2022 | 5:30 pm 
ACEC Virginia firms have entered and won some of the most innovative projects for the EEA Gala, and we cannot wait to see the projects entered for 2022.
EEA entries are accepted into one of 9 project categories: studies, research, and consulting engineering services; building/technology systems; structural systems; surveying and mapping technology; environmental; waste and stormwater; water resources; transportation; surveying, mapping, small projects; energy; and industrial and manufacturing processes and facilities. A distinguished panel of judges is assembled to critique and rank the submissions for engineering excellence. Projects from throughout the state are rated based on uniqueness and innovative applications; future value to the engineering profession; perception by the public; social, economic, and sustainable development considerations; complexity; and successful fulfillment of client/owner's needs schedule and budget.
"We're consistently surprised by the ingenuity displayed in the projects of firms throughout the Commonwealth. These projects make a noticeable difference in our communities," said Nancy Israel, Executive Director of ACEC Virginia. "The judges noted that Innovation stole the show, explaining how entering firms demonstrated the use of innovations and current technology in ever-changing ways."