Thank you to everyone who joined us for the 2022 Engineering Excellence Awards!  Please see all of the winners from the gala below.  We look forward to you joining us in 2023!
Legislators of the Year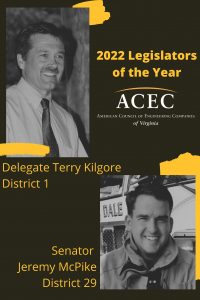 Rising Star Award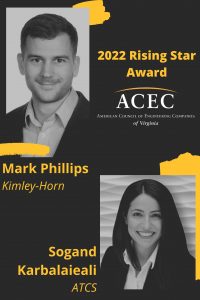 2022 Engineering Excellence Award Winners (Click HERE to view the Program Book)
Pinnacle Award Winner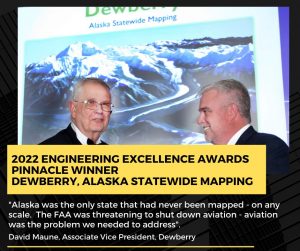 Grand Award Winners
All winners in this category are eligible for the Pinnacle Award, awarded to the best overall project the evening of the Engineering Excellence Awards.
Dewberry
Alaska Statewide Mapping
Dunbar
NOVA Aquatics Facility
Hazen and Sawyer
Providence Road Offline Storage Facility and Woodstock Park Improvements
Mason & Hanger
New U.S. Embassy, Jakarta, Indonesia
Wiley|Wilson
Howard County Circuit Courthouse
Honor Award Winners
AECOM
Rehabilitation of the Arlington Memorial Bridge
Clark Nexsen
19th Street Corridor Improvements
Dewberry
Virginia Beach Comprehensive Sea Level Rise and Recurrent Flooding Analysis and Planning
Dewberry
University of Virginia, Brandon Avenue, Green Street, and Utility Infrastructure
Kimley-Horn
Interstate 95 Corridor Improvement Plan
M.C. Dean
Metro Alexandria Rail Yard ATC System Replacement
Whitman, Requardt & Associates, LLP
Atkinson Boulevard Project
WSP
Indian River Road and Kempsville Road Intersection Improvements
Merit Award Winners
AECOM
Route 29 Bridge Over Staunton River and Norfolk Southern Railroad
Dewberry
Warrenton Southern Interchange
Dewberry
Boat Harbor Outlet Sewer Improvements
DJG, Inc.
Renovation of the Jim Jarrett Athletic Administration Building
DJG, Inc.
Public Works Complex Renovation
Draper Aden Associates
National Museum of the United States Army
HNTB
I-64/I-264 Phase III Interchange Modification Report Study
Whitman, Requardt & Associates, LLP
Route 3 Over Rappahannock River – Chatham Bridge Project
Whitman, Requardt & Associates, LLP
Crystal Spring Pump Station